EarlyBird Samples SOLD OUT
ENTER YOUR EMAIL TO BE NOTIFIED WHEN WE ARE BACK IN STOCK WITH SAMPLES
Waking up early sucks...

but it's not your fault.
For years you've been told it takes

"willpower"

and

"motivation"

. 
Turns out that's bullsh*t.
So why is waking up early so hard?
Your body and brain aren't getting what they need. Period.



The EarlyBird Morning Cocktail



The EarlyBird Morning Cocktail is a delicious blood orange mimosa flavored drink that adds:
- Powerful electrolytes
- Clean- natural energy
- Mood enhancing nootropics
Simply mix the EarlyBird powder in your cocktail shaker, and place it on your nightstand. 

When your alarm goes off in the morning, immediately drink it (making it easy to avoid the snooze). 
Then... Get Sh*t Done!
1) A Powerful Blend of Electrolytes
Our specially formulated, high-quality electrolytes deliver the hydration your body needs to function optimally. It's literally like drinking supercharged water.
2) A Base of Clean Energy Ingredients

A unique blend of green coffee bean extract, antioxidants, L-theanine, and GABA which:
Eliminates

 the thought of the snooze button.
​Delivers a 

clean, long-lasting energy

 to carry you easily through the morning - and beyond!
​Provides a boost 

WITHOUT

 a crash.
3) Proprietary Blend of Mood Boosting Nootropics

The powerful combination of patented nootropics, Ashwagandha, Theobromine, and Neurofactor:
Helps you start your morning feeling 

motivated

Launches you out of bed

in a

 

great mood

Sets you up for a 

productive day
Then, feel your brain turn on and be ready for a kick-ass morning!
Watch This To Learn The 3 Secrets To Waking Up Early
Here's Where The Magic Happens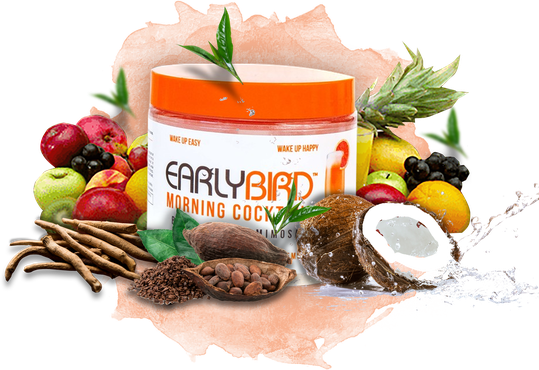 Electrolytes
Better than water, our electrolyte blend delivers supercharged hydration when your body needs it most
Spectra™ Blend
Unique mix of antioxidant fruits & vegetables which lowers oxidative stress (makes you feel good)
Ashwagandha
A special, patented form of Ashwagandha (KSM-66) shown to combat that annoying morning brain fog
L-theanine
An Amino Acid found in tea leaves that promotes smooth energy and intense focus, all day long
Theobromine
Alkaloid found in chocolate! Giving you that warm and fuzzy feel-good feeling without the sugar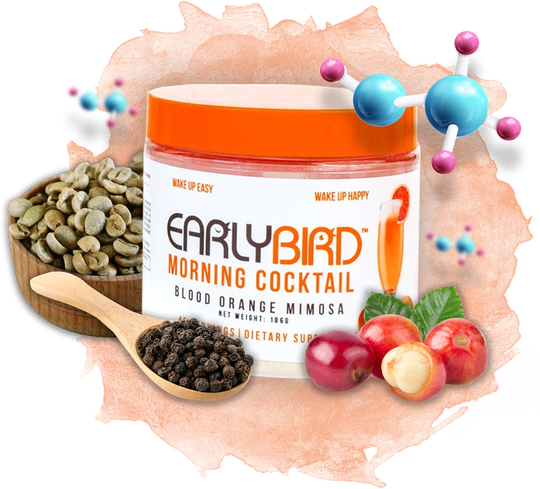 PurCaf & Infinergy
150 mg of natural, patented caffeine from green coffee beans gives you a mental jumpstart, without the crash
Neurofactor
A patented form of coffee-berry that increases BDNF levels (providing elevated focus and mood)
Bioperine
A patented form of black pepper extract proven to make all ingredients more bioavailable (makes EarlyBird work even better)
GABA
Neurotransmitter that allows your brain cells to talk to each other (helps clear your head)